Day 1: A show that never should have been canceled
Day 2: A show you wish more people were watching
Day 3: Your favorite new show (aired this TV season)
Day 4: Your favorite show ever
Day 5: A show you hate
Day 6: Favorite episode of your favorite TV show
Day 7: Least favorite episode of your favorite TV show
Day 8: A show everyone should watch
Day 9: Best scene ever
Day 10: A show you thought you wouldn't like but ended up loving
Day 11: A show that disappointed you
Day 12: An episode you've watched more than 5 times
Day 13: Favorite childhood show
Day 14: Favorite male character
Day 15: Favorite female character
Day 16: Your guilty pleasure show
Day 17: Favorite mini series
Day 18: Favorite title sequence
Day 19: Best TV show cast
Day 20: Favorite kiss
Day 21: Favorite 'ship
Day 22: Favorite series finale
Day 23: Most annoying character
Day 24: Best quote
Day 25: A show you plan on watching (old or new)
Day 26: OMG WTF? Season finale
Day 27: Best pilot episode
Day 28: First TV show obsession
Day 29: Current TV show obsession
Day 30: Saddest character death


---


Cullen took some liberties with this one, so I'll interpret that as a "go ahead" for me to do the same.



Don Draper (Jon Hamm), Mad Men

Well this one is just too obvious, isn't it? Hamm somehow manages to just barely perceptibly externalize Draper's rich and conflicted internal life. And he's, you know, all handsome and stuff.



Detective Frank Pembleton (Andre Braugher), Homicide: Life on the Street

Frank is such an amazing character, and Braugher is simply too good for any other role (as he has demonstrated for much of the duration of his post-Homicide career, I'm sorry to say). The fifth season? Where he's recovering from the stroke? Genius.


Stig Helmer (Ernst-Hugo Järegard), Riget (The Kingdom)

A truly plum role: between the Richard III-ish soliloquies and the downright Machiavellian grandiosity, this doctor makes Gregory House's bedside manner look textbook. You're sorely missed, Ernst-Hugo!


---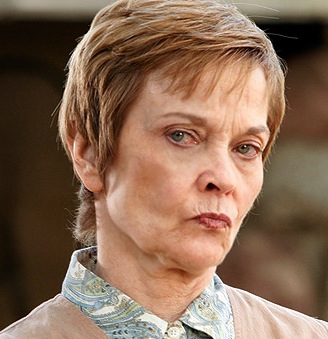 Lois Henrickson (Grace Zabriskie), Big Love

Grace Zabriskie can do no wrong, as far as I'm concerned, and she's at her absolute saltiest as Lois. I don't know if there was a bigger "WTF?!" moment on television of recent memory than when she lopped off Hollis Green's arm with a machete.



Nicki Grant (Chloë Sevigny), Big Love

Cullen chose Nicki, too. (Incidentally: how unlikely is it that the show about FLDS plural marriage should have so many great female characters?). Her small-to-absurdly-major machinations and schemes are difficult to watch sometimes. But I'm always intrigued to see what she'll get away with next. Plus, Nicki's backstory is endlessly nuanced and, in the end, sympathetic.



Ruth Fisher (Frances Conroy), Six Feet Under

Ruth had a great arc through the series. Her character always seemed so authentic: an older, pretty unassuming and self-effacing woman was lost her spouse unexpectedly and is presented with grief and newfound freedom in equal measure. Frances Conroy is really amazing!